I. 

POPULARITY FACTOR
As much as we don't think how popular a website builder should have a significant impact on your decision on which one to use to build your website, we thought that we should cover that here as well.It's more as an "interest" factor before we head into discussing the pros & cons of each website builder below.
Here is how WIX, Squarespace, Weebly and Jimdo are trending on Google searches:
What this tells you, is that WIX gets the most searches online, then Weebly, Squarespace, and Jimdo.
It's not surprising that Wix.com is trending the highest, as they have over 92 million websites published.
II. PROS
1. WIX
Best collection of professional caliber design templates
WIX offers over 510 professional looking templates that are very updated to today's design trends (compared to other drag & drop website builders).
The best part about WIX's templates is that they are already structured, formatted and pre-populated with content so you simply have to pick your favorite one, replace the pre-set content with your own.
So if you're not creative or good with designs, WIX's templates will work very well for you as you won't have to struggle with creating your own page layout.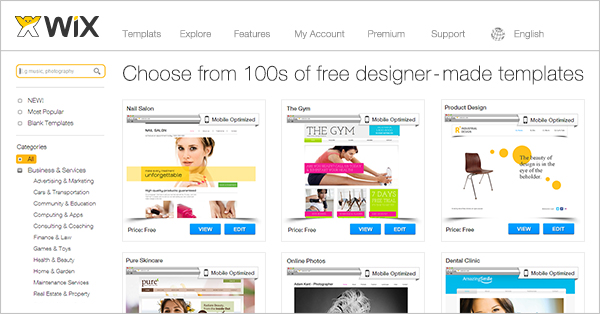 The most innovative drag & drop website builder
WIX is consistently introducing new and innovative features and designs that are also user-friendly.
For example, you can build 1-pager parallax designs, insert video backgrounds, creating multiple sections on your pages, all without touching any codes. WIX is really ahead of their competitors in this respect.
WIX also has an artificial intelligence system called "WIX ADI"(stands for Artificial Design Intelligence) that helps you build the first version of your website automatically. It will design your webpages and layouts for you, populate your content and just make your website look professional.
This solves a lot of your headaches especially if you're not great at design or you just want the fastest way to setup a professional looking website. It's a "Done-For-You" service.
Support and help available everywhere
WIX has one of the strongest support infrastructure available amongst all website builders.  They have help / support buttons everywhere.
You can either click on the main help button at the top of the page or each element that you use also has its own unique help button.  It's nice that the help buttons are right there for you to click on without looking any further.
If you need a bit more "hand-holding", WIX also offers you phone & email support.
2. Squarespace
Beautiful, designer-quality templates
Squarespace provides you with beautiful, mobile-responsive, designer templates that undeniably commands attention. The templates are clean, minimalistic and give off a sophisticated vibe.
Their finishing quality is high – as if a designer has invested months in polishing them.  We like and appreciate their clean lines compared to other website builders' templates which could be a bit noisy.
All Squarespace templates are mobile responsive
Squarespace offers responsive templates, meaning that you can resize your browser and the content (including the images, slideshows) will also automatically adjust to help give you an optimized viewing experience.  This is especially helpful if your visitors tend to use mobile devices.
Extensive styling options to customize your design
Squarespace gives you extensive styling options that the majority of other website builders do not provide. You can certainly do custom styling with other website builders, but you need to know how to edit codes.
Squarespace has a style editor that helps you do all the custom styling without touching codes, from changing of background images all the way down to customizing thumbnail details.
3. Weebly
Very user-friendly, drag & drop website builder
Weebly is probably the easiest to use website builder available today. They don't overwhelm you with an excessive number of bells and whistles, and include all the necessary basics to build a functional website.
Weebly's user interface is very intuitive to use, which is good for all levels of users especially if you are fearful of anything to do with technology.  You can literally build a good website in a few hours.
They've also been introducing more advanced features and tools lately.  Fear not, they've kept to their ability to keep them easy to use – even for beginners.
Template designs are on-trend
In the past, Weebly's designs are not very updated at all. However, they've been introducing better and more stylish templates lately which is a very nice and welcomed improvement.
All their templates are also mobile responsive so your website will look professional on mobile devices. Changing templates is also easy wich just 1-click and all your existing content will be automatically transferred into the new template.
Weebly also gives you access to the templates' HTML / CSS codes. So if you know a bit of code (or if you hire someone who does), this gives you the flexibility to customize your design extensively.
Pre-designed page layouts
When it comes to designing your pages, if you don't know where to start, Weebly has over 40 pre-set page layouts for you to choose from to get you started.
They've compiled popular page layouts for home, about, services, contact, restaurant menu and portfolio pages. You can pick any one of them, and start customizing or altering the layouts to make it your own. More about this below.
4. Jimdo
A truly international website builder
Compared to its competitors, Jimdo has teams all around the world and so if English is not your first or native language, Jimdo is a good website builder to consider using.
Access to HTML and CSS codes to customize your design
If you know how to code or if you are working with a coder, this gives you tremendous design freedom as you can edit the codes to your template. If you don't intend to edit the codes immediately, this gives you the flexibility to do so in the future.
Jimdo's free platform (JimdoFree) provides you enough tools to build a very functional website. There is absolutely no pressure to upgrade to the paid platform (JimdoPro and JimdoBusiness) and there are no time limitations as to how long you can remain a free user.
III. CONS
1. WIX
Difficult to switch templates
Although WIX has plenty of pre-made designer templates for you to choose from, once you've picked one to use, you can't switch to another template.  If you do, you will have to re-insert your content again.  It's a bit annoying, so make sure you take your time to pick the right template design!
Visible advertisements on the free plan
Using WIX's free plan comes with noticeably large and prominent advertisement WIX logos on the side and at the bottom of the website after you publish.  All free website builders have their own advertisement credits (understandable since they're providing services for free) but Wix's are really quite prominent.  You will need to upgrade to remove the advertisements.
Not designed to handle complex e-commerce needs
If you want to build an online shop, WIX's e-commerce tools are not advanced enough to help you fully manage your store.  But to be fair, they do have better e-commerce tools than most standard website builders, but they don't include basic management tools such as sending out automatic confirmation emails to your customers after they pay, configure taxes and shipping costs, and just general management of orders such as marking orders as shipped or paid.
 2. Squarespace
When viewing your website on a mobile device, how your design looks in editing mode may be slightly different from its published mode
Since Squarespace's design templates are all mobile responsive and automatically optimized for mobile devices, this means that your content may "shift" positions on its own to fit nicely into a mobile device's screen.
This is a minor nuisance as you won't have 100% control over how your site displays on mobile devices since the viewing dimensions for different mobile devices are different. This is a minor drawback as you don't have complete control over how the mobile display looks like.
Extensive styling options could be overwhelming
Although Squarespace's Style Editor gives you the ability to customize or style almost everything in the website without going into codes, this could be a bit overwhelming to some people.  Having a lot of styling flexibility can be overwhelming and sometimes trying a bit too hard to get creative takes away the minimalistic beauty of a website.
The key here is not to do too much with all these flexible tools.  You can still build a very attractive looking website with Squarespace without feeling the need to edit every single design element on your site.
3. Weebly
Limited template customization options
Weebly only allows you to change font styles and overall color scheme for each template.  So if you want to make modifications beyond that, such as changing the menu bar color, content background design, or adjusting the content width, etc., you will have to modify the codes of the template in order to do so.
So it's definitely possible to make detailed customizations, there just isn't a code-free way of doing so. Again, other website builders such as WIX or Squarespace offer you code-free ways to customize your design.
Slower in introducing new, innovative features
Weebly tends to only introduce new tools / features once or twice a year which is slower than what most users want (existing users are always hungry for more features!)
However, whenever they do introduce new functions, they are quite impressive and users are rewarded with these new features. New features tend to be pretty advanced, but Weebly is still able to keep them very user-friendly – which is what Weebly does best.
Blog features need improvement
Another common complaint amongst users is that Weebly's blogging functions are fairly primitive.  Nowadays, websites with blogs want the ability to highlight related posts, most popular posts or latest posts.  Weebly has yet to incorporate these tools into their blog.
They give you the basics, such as social sharing buttons, the ability to drag and drop content into each post, or even the ability to schedule when a post should be published in the future.  But in our view, showcasing related, popular or latest posts are very basic tools each blog should have.
4. Jimdo
Limited styling options unless you edit the codes
When compared to other drag & drop website builders, Jimdo's doesn't give you as many options to edit the style / design of your website. However, you do have access to edit the codes to your design template, but that's only if you know how to code or if you are working with a coder.
Not a true drag-and-drop user interface
Even though Jimdo's website building tools are not drag and drop, don't let this fool you into thinking that Jimdo isn't easy to use.  Its functions and user-friendliness still get the job done, although it would feel more interactive with drag and drop.
IV. 

PICK THE WEBSITE BUILDER DEPENDING ON WHAT YOU NEED

As per the summary of pros and cons above, each website builder has its own strengths and weaknesses.

Here are our recommendations based on what you might be looking for:

1) Easiest To Use – check out Wix.com or Weebly

2) Stylish & Professional Design – see Squarespace and Wix.com.

3) eCommerce Builder – you should consider Wix, Weebly or Squarespace